Welcome
Welcome to my new website. This complete revamp has been a long time coming and has taken me far longer than it should have.
With this relaunch of my website I hope to resume my frequent blog posts about Wildlife and Nature photography. I will also be producing frequent video tutorials about photography in the field, image workflow, and shooting video with your DSLR.
Lastly please bear with me as I consolidate the content and functions of my different websites into this new one as well as migrate all the content I had already published under my old website.
As always feel free to
contact me
with any questions you may have.
No matter how many events I teach at every year, and no matter how often I go to Yellowstone, winter in Yellowstone is still an amazing time. This year I had two workshops back to back and both offered very different but rewarding experiences. Every time I am humbled by how many repeat clients I have on my workshops and this year was no exception. Workshop participants this year we had some spectacular encounters with Bison, Bighorn Sheep and Bobcats. In addition we encountered some of the coldest weather I have experienced. One morning in particular we ventured out in -36 degree Fahrenheit weather, yet my participants all endures and where richly rewarded with some inspiring images.
Here is a collection of my favorite images from this year. I am already working on the schedule for next year, so if you are interested in attending make sure to sign up for my newsletter using the box on the left hand side so that you are notified as soon as the workshops are made public.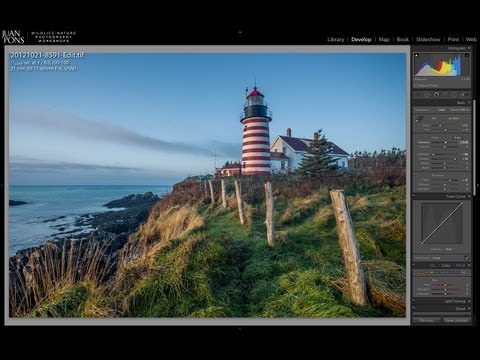 Many people do not realize that many of my images are HDR (High Dynamic Range), I believe the reason is because I strive to make my images look realistic and/or natural. The HDR process has gotten a bad rap because many people take an artistic route and create images that don't necessarily reflect the real world. When Lightroom 4 was released, the fine folks from the Lightroom team gave us a new and interesting new way to create High Dynamic Range images. This has been my preferred method of processing HDR images for quite some time now since it produces some of the most natural looking images.
Best of all the process is super simple. Check out the video to learn how you can do this yourself.
I've just returned from my yearly "Winter in Yellowstone" photo workshop and I have to say that it was a resounding success. We had some very cold weather and some balmy weather, we say and photographed Bison, Elk, Pronghorn, Big Horn Sheep, Mule Deer, Mountain Jackrabbit, Bobcat and much more. As always I am eager to return and look forward to what next winter will bring. I am already making the arrangements for next year so if you are interested in joining me, I would encourage you to send me an email, this year the workshop sold out very early and I expect the same for next year.
Below find a short gallery of my favorite images from this winter.

With this article, I hope to start a semi regular series of quick tips for wildlife and nature photographers.
Without further ado, here is the first installment.
1. Keep your eye on the viewfinder – Action can unfold in front of you at any time, and Murphy's law dictates that you will miss the best opportunity when chimping (If you do not know what chimping means check this article http://en.wikipedia.org/wiki/Chimping)
2. Know your gear – Wildlife photography is somewhat like baseball, you spent lots of time waiting for those few seconds of real action. You NEED to be ready for those few precious seconds; in order to make the best out of those few seconds you must know your equipment better than the back of your hand. You are certain to miss that great shot if you are fumbling with your equipment during those precious seconds.
3. Keep your gear ready – Make sure your camera is on, you have a recently formatted memory card, and the camera is set to your favorite settings. Double check these settings every so often, it is easy to bump your mode dial to an undesired mode inadvertently.
4. Be patient – As stated in #1, wildlife is unpredictable, and do their thing at their own time and pace. Know your subject, learn their behavior and predict their next move.
5. Keep an eye for changing light conditions – When shooting outdoors you can be guaranteed that the light and weather will change. Make sure you keep the sun to your back and pay attention to changing light conditions, and adjust your camera and flash accordingly.
Hope you found these useful and I hope to be posting many more of these in the near future.
As always, if you have any questions or comments use the comments section below or you can reach me via Google Plus at http://gplus.to/juanpons.
Juan
As I prepare to leave to go back to North Carolina to lead my "Waterfalls of Western NC" Photo workshop, I thought it would be appropriate to put together a short list on how to get the most out of a photo workshop.
One of the fastest, easiest and most effective ways to improve your photography is by learning from experienced professionals, and what better way to do that than going on a photo workshop to some spectacular and beautiful destination.
For some people a photo workshop can be a one in a lifetime opportunity, others are more fortunate and are able to attend a diverse number of workshops. Regardless, each workshop represents a significant investment of your time, capital and resources, as such you want to make sure to get the most out of each single workshop you are fortunate enough to attend.
Here are 6 things to consider in order to improve your next workshop experience:
1. Start with the right attitude
This may seem simple, but it's probably the most important piece of advice I can give you. Going to a workshop with a positive attitude, with a real desire to learn and having an open mind is the key to enjoying yourself. Be patient and courteous to both your workshop leaders and fellow participants.
2. Know your equipment
Make sure you know as much as possible about your photo gear. Most photo workshops are designed to further your photographic skills, not to show you the basics of your cameras operation. However, if you have questions about a particular aspect of your camera, make sure to ask, bringing the manual also helps!
3. Dress appropriately
Wearing the wrong clothes can turn a fantastic workshop into a miserable experience. For my workshops, I customarily provide a list of recommended gear and clothing to wear appropriate for the location and the expected weather. Make sure you have spares of the most essential items, such as gloves for those winter workshops. Research your destination and look at the weather forecast, and plan accordingly.
4. What do you hope to get out of this workshop?
Decide what you want to get out of the workshop, whether its a specific image you want to make, a photo technique you want to learn, or are just looking for inspiration. Understanding what will make this workshop a success for you will help both you and your instructor MAKE IT a success. Make sure you communicate this information with your workshop leader.
5. Learn as much as you can about the workshop destination
It is often said that the more you learn about something, the better you can capture it in photographs. I truly believe in this adage. Learn as much as you can about your destination, the natural features, the wildlife, the weather, everything and anything. Knowing what makes a location unique will help you make better images.
6. Ask questions and pay attention
The first item on this list was a simple piece of advice, and the last one is even simpler; ask questions, no matter how basic or "dumb" they may seem. You are attending a workshop to learn, help your instructors help you! Sometimes you don't even know what questions to ask, that is ok, oftentimes watching someone do something is one of the most effective ways to learn. Watch your instructors, study what they do when they are shooting, ask them about what they are doing, try doing what they are doing and ask for feedback.
I hope that these tips help improve your next workshop experience, if you have any questions or comments use the comments section below or you can reach me via Google+.
P.S. I have a couple of openings still available on this workshop, you want to find out more or want to sign up check out the description of the "Waterfalls of Western NC" Photo workshop at my workshops website.